︎ SHOP ︎︎︎



MODELO PRATO

LISO UNSPECKLED
REF. M0141 — 115€ PVP

GRANITADO SPECKLED
REF. M0143 — 122€ PVP


MEDIDAS
Ø28 x 11 cm

INCLUÍ
— Suporte cerâmico para lâmpada (casquilho E27)
— Fio elétrico têxtil (100 cm)

ADQUIRIDO À PARTE
— Lâmpada de filamentos LED (2200 K)
— Florão de teto esmaltado na mesma cor — Pintura granitado— Fio elétrico em cores coordenadas / linho / juta





---




Para tirar dúvidas é possível encomendar amostras de cor ︎︎︎
You can order these enamel color sample plates



---
Exemplos
EXAMPLES
︎︎︎
PRINCIPAL | MAIN
Ocre (ocre)
BORDO | BRIM Ocre (ocre)
GRANITADO | SPECKLED Branco (white)

SUP. CERÂMICO | CERAMIC SUPPORT branco (white)
SERRA-CABOS | CABLE GRIP branco (white)
CABO | CABLE CORD branco (white)
︎︎︎

PRINCIPAL | MAIN
Branco (white)
BORDO | BRIM Branco (white)
SUP. CERÂMICO | CERAMIC SUPPORT branco (white)
SERRA-CABOS | CABLE GRIP branco (white)
CABO | CABLE CORD branco (white)
︎︎︎

PRINCIPAL | MAIN
Verde Inglês (english green)
BORDO | BRIM Verde Inglês (english green)
GRANITADO | SPECKLED Branco (white)

SUP. CERÂMICO | CERAMIC SUPPORT verde escuro
SERRA-CABOS | CABLE GRIP branco (white)
CABO | CABLE CORD branco (white)
︎︎︎
PRINCIPAL | MAIN
Branco (white)
BORDO | BRIM Vermelho (red)
SUP. CERÂMICO | CERAMIC SUPPORT branco (white)
SERRA-CABOS | CABLE GRIP branco (white)
CABO | CABLE CORD vermelho (red)
︎︎︎
PRINCIPAL | MAIN
Branco (white)
BORDO | BRIM Azul Real (royal blue)
SUP. CERÂMICO | CERAMIC SUPPORT branco (white)
SERRA-CABOS | CABLE GRIP branco (white)
CABO | CABLE CORD azul (blue)
︎︎︎
PRINCIPAL | MAIN
Ocre (ocre)
BORDO | BRIM Preto (black)
SUP. CERÂMICO | CERAMIC SUPPORT preto (black)
SERRA-CABOS | CABLE GRIP preto (black)
CABO | CABLE CORD
preto (black)
---
Como Escolher?
HOW TO COSTUMIZE YOUR LAMP



1
ESCOLHER A COR PRINCIPAL
CHOOSE THE MAIN COLOR
2
ESCOLHER A COR DO BORDO

CHOOSE THE BRIM COLOR
3
ESCOLHER A COR DO SUPORTE CERÂMICO

CHOOSE THE COLOR OF THE CERAMIC LIGHT BULB SUPPORT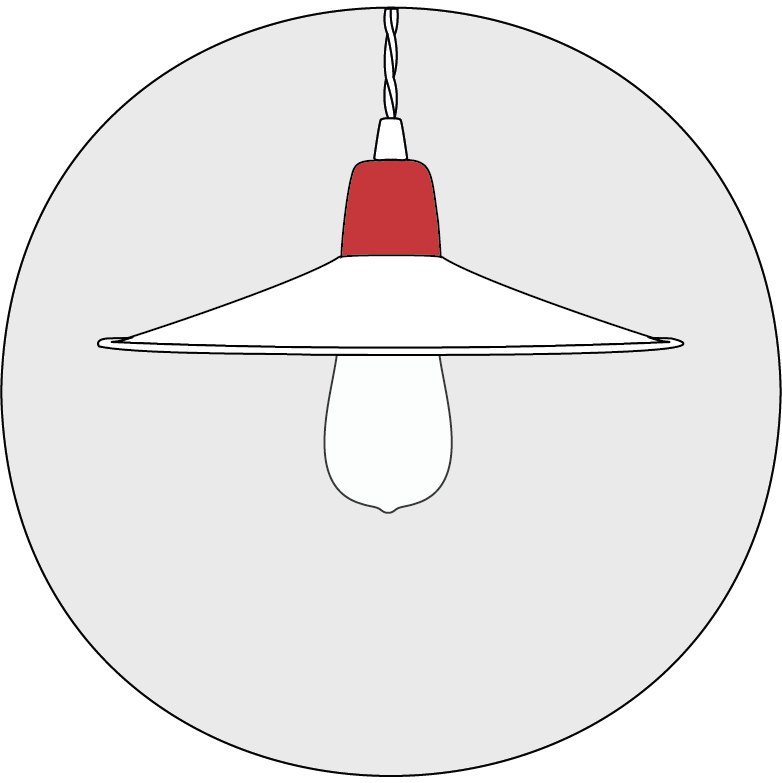 É possível coordenar com algumas das cores do catálogo. It can be coordinated with some of the colors in the catalogue.
4
ESCOLHER A COR DO FIO ELÉTRICO
CHOOSE THE ELECTRIC CABLE COLOR
As cores disponíveis são branco e preto. É possível adquirir um cabo têxtil de cor coordenada. Colors avaible as default are black or white. You can add a color coordinated textile cable cord.



︎ COMPRAR AGORA ︎︎︎
SHOP NOW



---
Extras
OPTIONALS



1
ADICIONAR A PINTURA DE EFEITO GRANITADO
ADD THE SPECKLED PAINTING EFFECT
2
ADICIONAR UM FLORÃO DE TETO
ADD A CEILING ROSE CUP
3
ESCOLHER ADICIONAR UMA LÂMPADA
ADD A LED LIGHT BULB (OPTIONAL)
4
ADICIONAR FIO ELÉTRICO TÊXTIL DE COR COORDENADA
ADD A COLOR COORDINATED CABLE CORD


Disponível em breve Availale soon
---
Dúvidas?
STILL UNDECIDED?




Se tem dúvidas e precisa de ajuda a visualizar o seu novo candeeiro personalizado, disponibilizamos um serviço de maquetização gratuito, que pode requisitar enviando uma mensagem com as cores pretendidas.
If you're still undecided and want some pictures to help you visualize your ceiling lamp, just ask for a digital mock-up on the colors you'd like to try out.
---



NOTAS NOTES
Preços válidos até 31/12/2021. Prices are valid until 31/12/2021.

De notar que as cores podem variar, tendo em conta diferentes ecrãs e a própria natureza artesanal do esmalte. Para confirmação é possível encomendar amostras das cores necessárias. Colors may vary according to different screens and also because of the handmade nature of the enameling process. If in doubt, its possible to purchase enamel color samples.