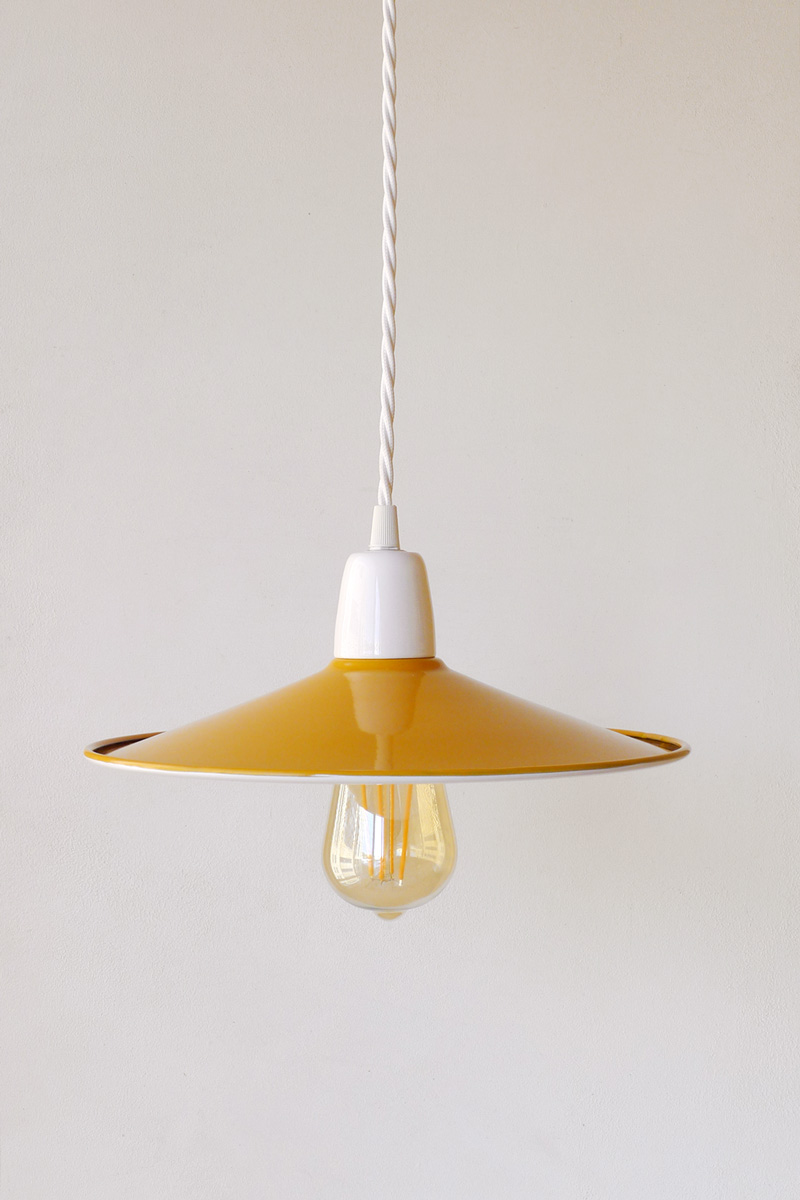 Candeeiro Prato Clássico
IVA INCLUÍDO
Candeeiro de teto, fabricado em Portugal, feito em chapa de aço esmaltada de acordo com as normativas europeias (isento de chumbo e cádmio).

Esta é a versão mais popular dos candeeiros da Mariamélia: uma combinação perfeita do Ocre com o branco do suporte cerâmico, com o fio elétrico branco. O candeeiro é feito por encomenda e levará até 3 semanas a ser produzido e enviado. Este candeeiro é esmaltado por Luís Tato, em Matosinhos.

Ocre e Branco
Cor principal: Ocre
Bordo: Ocre
Suporte Cerâmico: branco
Cabo elétrico: branco

Branco e Marinho
Cor principal: Branco
Bordo: Azul Marinho
Suporte Cerâmico: branco
Cabo elétrico: azul

Este candeeiro incluí:
︎︎︎ cabo elétrico têxtil branco (100 cm comp.)
︎︎︎ suporte cerâmico para lâmpada E27 (a lâmpada não está incluída)

Pode adicionar à sua encomenda:

︎︎︎
florão de teto

︎︎︎
lâmpada LED
Se prentender um candeeiro de cores personalizadas, adicione antes este artigo ao seu carrinho.
Dimensões
Ø 28 x 11 cm aprox.
Classic Plate Design Lamp
Enamel ceiling lamp, entirely manufactured in Portugal. This is Mariamélia's Classic Plate Lamp in Ochre and White, the most popular option for our cutom lamps.

The lamp is produced according to the european norms for enamel coating: lead and cadmium free. This lamp is made to order and will up to 3 weeks to be manufactured and shipped to you. Enamel coating is custom made by Luís Tato, in Matosinhos (Porto).

Ochre and White
Main color: Ochre
Brim: Ochre
Ceramic Support: white
Cable cord: white

White and Navy
Main color: White
Brim: Navy blue
Ceramic Support: white
Cable cord: blue

This lamp includes:
︎︎︎ textile cable cord (100 cm long)
︎︎︎ ceramic E27 lamp cap (light bulb is not included)

You can add to your lamp:
︎︎︎

ceiling rose cup


︎︎︎ LED lamp bulb

If you're looking for a lamp in custom colors just add this item to your cart.


Measurements
Ø 28 x 11 cm approx.
produtos relacionados
related products